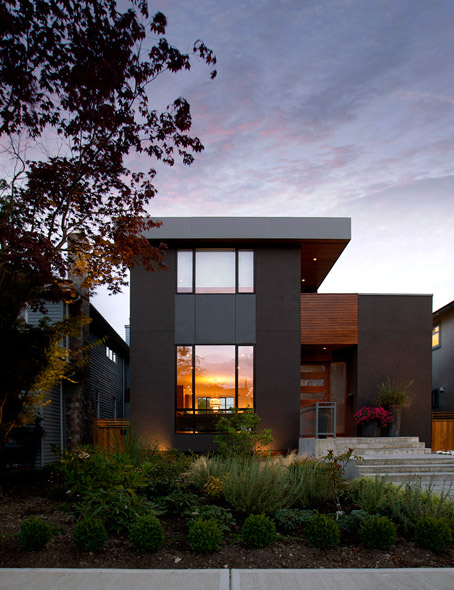 2880 West 20th Ave. | Vancouver | V6L 1H2
Design by: Campos Leckie Studio
Photography by: Rafael Santa Ana and Maria Kennedy
Built 2010, 4 bedroom, 4 bathroom, 2500 square feet
The project was conceived as a modernist prototype for Vancouver's ubiquitous RS-1 zoning district. Our design process involved a rethinking of the typical zoning regulations as well as the constraints of building in an urban context. Through this process we generated a set of guidelines for what we have termed a 'flexible prototype' that could address the contextual differences of individual sites in a way that allows for a customized integration of passive environmental strategies, the incorporation of exterior space as part of everyday living, and the provision of an affordable and flexible live/work space.
Drawing on the economies of the Vancouver Special housing typology and the idea of live/work studios, the project addressed affordability by envisioning the basement and garage as flexible spaces that can be converted from work spaces into rental units / laneway dwellings. These spaces were also designed to have sufficient flexibility over the lifetime of the project to reflect the changing nature of working at home and raising a family. In this iteration of the prototype, the guidelines we were able to implement meaningful cross ventilation, natural lighting throughout, and accommodate passive heating and cooling strategies.
The modernist agenda aimed to retying the traditional interpretations of living in an urban context through the incorporation of landscape and exterior space into everyday living. A large part of the second floor was integrated as deck space that runs the length of the house and is accessible from both upper floor bedrooms. The floor area made available as a result of this organization was redistributed to the basement that opens at grade to the rear yard. The resulting bedroom/office/flex room incorporates a desirable south-facing patio.