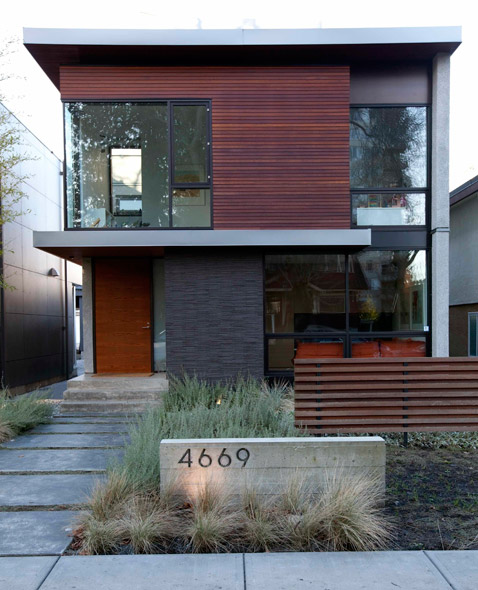 4669 West 9th Avenue | Vancouver | V6R 2E3
Design by: Evoke International Design
Photography by: Janis Nicolay Photography
Built 2010, 3 bedroom, 2.5 bathroom, 2300 square feet
The project consists of a standard city lot in the Point Grey neighbourhood of Vancouver. The lot is situated in the RS-1 District, which is an outright approval development zone that encourages homeowners to maintain the single-family residential character of the District, with an emphasis on encouraging neighbourly development by preserving outdoor space and views.
The type of houses built in this District tend to mimic the traditional aesthetic of the neighbourhood, but with the use of lower quality materials and detail, blurring the inhabitants comprehension of the history of the built environment. Additionally, there are many occurrences where two adjacent houses are virtually identical and are simply "mirrored" on their sites to create the sense of individuality. Our approach was to ensure streetscape uniqueness by individualising the facade through the use of different materials (zinc, stucco, stone and ipe), massing and fenestration. While aesthetically different from the neighbours, the house strives to maintain the scale, landscaping, privacy and connection to the public space of the streetscape. The small, 2300 square foot floor plan have a larger sense of space due to open planning, minimal number of single-use rooms and fluidity of movement from inside to outside.
The main floor entry connects to a small den, offering the one private space on the lower floor. This area also acts as a landing for the wood stair that is cantilevered off the feature concrete wall. Open kitchen, living and dining areas are a few steps down which allows for an at grade connection to the rear yard through a large expanse of sliding glass doors.
The second floor consist of the master bedroom suite and two smaller bedrooms. The master bedroom ensuite is completely open to the sleeping area, enhancing the sense of space, light and openness, a consistent theme throughout the house. The cantilevered stair to the 3rd floor is highlighted by a connecting open void, which allows for natural heat ventilation and maximum daylight into the middle of the plan.
The 3rd floor provides a semi-private study area, with access to the roof deck.
The "green" strategy for the house was implemented in the following ways:
• sustainable exterior materials (zinc cladding, natural stone, certified ipe siding)
• high efficeiency rating curtain wall window system
• in situ polished concrete floors
• open plan with abundance of natural light
• healthy, low VOC interior finishes (paints, coatings, adhesives)
• reduction of water consumption through the use of ultra low flow plumbing fixtures
• water efficient and urban habitat supportive landscaping
• energy efficient lighting – light fixtures hard-wired to not accept incandescent or halogen lighting
• in-home display unit for energy consumption
• heat recovery ventilation system
• pre-piping from roof to mechanical room for future installation of solar panels
• cable raceway from electrical panel to garage to allow for future installation of electric car charging system